Women's and Children's Ministry


You can reach our Women & Children's Ministry through our ministry office at (229) 435-7615.

Precious in the sight of the LORD is the death of his saints.
Psalm 116:15

Saved to serve,
Bro. Larry Hample
---
You can reach our Women & Children's Ministry through our ministry office at (229) 435-7615.
---
History
By: Mrs. Berry, Former Women's Program Director

Around 1989, Larry Hample began taking needy men into his home. This was the beginning of what is now known as the Albany Rescue Mission. As Brother Hample realized that there was an on-going need for shelter for homeless and indigent men, it became necessary to expand living facilities. He then moved the men's quarters to 604 North Monroe Street, where the living quarters and the main office remain located today.
Soon it became clear that there was a dire need for shelter and refuge for women and children. In or around 1998, he began a women and children's ministry at the same location that the men's work had begun.
We start people that come into the shelter with a "New Beginnings Course." They are given a King James Bible and a "God's Plan For Man" booklet along with a set of house rules that have to be followed. We take a brief medical and personal history of each new resident and they are enrolled in a two week program. We have dubbed the house where both works started as the "New Beginnings Home."
I became involved in the work by becoming a part of the Ladies Auxiliary. We compiled cook books, had bake sales and crafts, etc., to jump start the work. Then it became evident that there was a need for some one to lead in Bible Study. This was my opportunity. Finally I was selected to be the Director of the Women's Mission. I served in both capacities for quite a long time.
We had an average of 10 ladies and 4 to 8 children the entire tenure. One lady with 4 children (set of twins) pulled herself up, did some schooling and now has a very good job. Another was on disability and by allowing me to hold her money, she purchased a practically new car and at last report, was with her daughter and doing great. Another returned to New York and has a good job. I hear from her on occasion.
Mission work consists of working with people from all walks of life. It takes wisdom from God to be able to discern each individual's need. At times, it can be very nerve wracking. A person truly needs camel knees; however, when a change takes place in one person, it is truly worth it all.
After I left the Mission, it was not long before I knew the Lord was speaking to me about the work. In January of 2005, I again became the Director of the women and children's mission.
Health care workers coming in the women's home tell us it is the cleanest, best-kept home they visit in Albany. What an encouragement.
We all have hopes and dreams in this life. Mine is to be faithful where the Lord has placed me. As a volunteer, I serve with joy, knowing God has placed me and all the results are His, not mine. He has blessed me with wonderful house managers and with 3 wonderful ladies that give freely of their time to help stimulate the Bible studies by different deliveries so there can be more reception.
For His service,
Mabel Berry
Mabel Berry
22 July 06
---
I would like to take this time to tell you about Albany Rescue Mission's Person of the Year.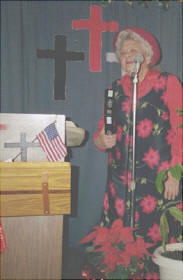 Mrs. Mabel Berry just celebrated her 85th birthday. Any normal 85-year-old person is long retired or living at a personal care or nursing home. Not Sister Mabel Berry. She not only lives in her home, she takes care of it. She also serves the Lord at her local church. Now, if that wasn't enough, she is the full-time Director of the Women's and Children's Ministry at Albany Rescue Mission.
There, she serves as sister, mother, grandma, etc. as she shares God's love to all who come her way. She didn't retire, she re-enlisted!
I want to take this time on behalf of everyone here at the Mission to thank her for her outstanding service to the Lord and His ministry to reach the least, the last, and the lost.
Saved to serve,
Bro. Larry
February 2006
---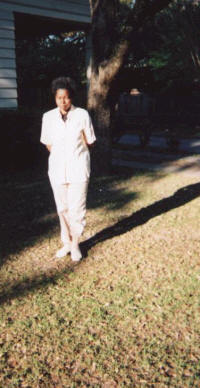 We would like to introduce Diane, known to her fellow residents at the Women's Mission as "Dee."

Dee came to us in September of 2005 and has been a joy to all who work and live with her. Dee is an exceptionally quiet, thoughtful person who will take on extra work and responsibility without ever being asked and with never a complaint. She takes great pride in the housekeeping and appearance of the women's residence, both inside and out. If she sees that something needs to be done, she goes ahead and does it without a word to anyone. She will mop floors and rake leaves with quiet diligence and enthusiasum. She seeks no praise, nor any expression of gratitude, but her efforts on our behalf do not go un-noticed nor un-appreciated. Perhaps her one flaw is perfectionism, but that quality serves to the advantage of everyone around her.

Dee is an ardent student of the Bible – never missing Church or Bible Study and is often seen reading her Bible on her own time.

Dee pretty much keeps her own counsel and does not talk about herself; however, it is known that she has overcome personal problems and obstacles and has, through her own efforts, achieved a stable and productive life.

MAY THE LORD BLESS YOU, DEE!!